Heatfastener
Brass Chicago Screws Supplier
We're a leading brass Chicago screws manufacturer of specialty fastening solutions for demanding industrial applications. Our area of expertise is custom Chicago screws manufactured from high-quality, Plastic, Carton steel and brass, stainless steel, etc materials. We can also manufacture them per your specific request.
Heatfastener Specialty Manufacturing has been working with original equipment manufacturers for over 100 years, providing excellent and timely customer service. Our team of highly trained professionals utilizes only the latest technology and processing methods to manufacture all of our flat washers. We carefully monitor each washer to be sure it is made to precision. You'll be satisfied with the end results.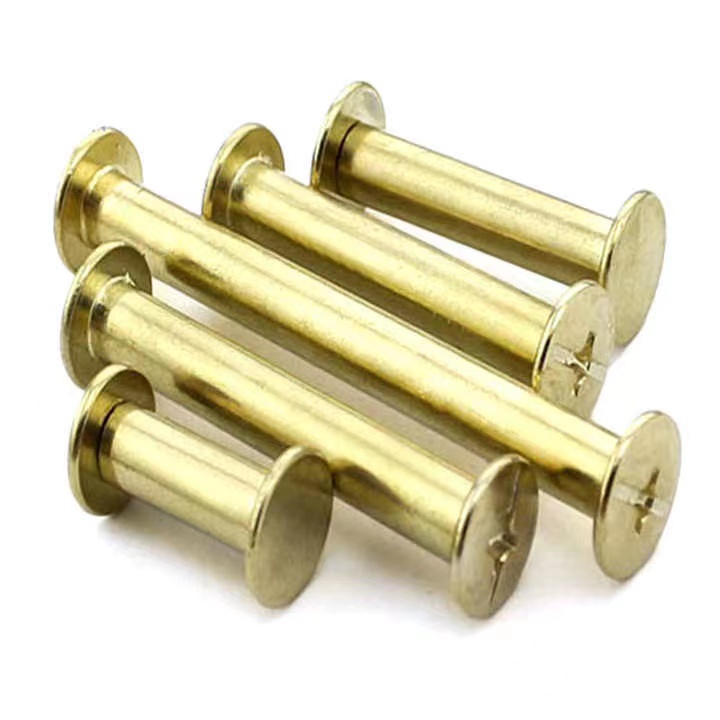 Brass Chicago Screws
Chicago screws, which are also known as Chicago Fasteners, Chicago Bolts, Sex Bolts, Screw Posts, Tee-Nuts, and Binding Posts, interscrews, and connector bolts, take the place of the permanently sewn-on thread and allow you to swap out different belt buckles with the same leather strap. Various materials include steel, stainless steel, copper, aluminum, and brass.
Low Profile Phillips-Slotted Brass Chicago Bolts
Phillips & Ball Head Antique Brass Chicago Screws Tornillos
Slotted Pan Head Brass Chicago Screws Tornillos
Other Types of Chicago Screws and Bolts
Aluminum Chicago Screws
aluminum Chicago screws is very strong, and have over other varieties is that they have optional extension pieces that can expand the capacity further. which are great binding solutions for photo albums, sample books, swatch books, manuals, and more. They consist of two pieces (screw and post.
Stainless Steel Chicago Posts
Steel binding posts are one of the most durable alternatives in the marketplace. They are constructed from zinc-coated solid steel that is more powerful than anything else, using the toughest as well as steady bind. This makes them particularly suited for those that work in the field as well as need something that can withstand being considered, transported, and also handed from person to person commonly. This makes them the premier Chicago screw for designers as well as building and construction businesses.
Plastic Screw Posts
Plastic binding posts are made from a thick material that is strong while continuing to be extremely lightweight as well as cost-effective. Plastic posts do not screw together as easily, even though they are threaded, and also are most often just pushed and also broken together. This develops a much more long-term bind that, depending on the dimension, typically calls for pliers to de-bind. They are not as editable as the steel choices and are offered in abilities as much as 2 inches, depending on the color. One special sort of plastic binding message includes a loop on one end that you can stick a string or neck chain via to allow for hanging.
Need Custom Screws For Your Industry?
As a 20-year industry experience manufacturer with a factory equipped with precision machines, we can provide, from consultation to production, a one-stop solution for you.
Related Articles
Contact Us
Are you looking for screw manufacturers?
24hours online Service