Hex Flange Bolts Manufacturer Supplier Factory
Hex flange bolts are hex bolts with a circular flange under the head that acts like a washer to distribute the load. normally with serrated and non-serrated.Hex Flange Bolts with a serrated washer-like head are suited to applications requiring additional load distribution and loosening prevention with serrations on the flange underside. Flange bolts that are non-serrated are sometimes called frame bolts.
Flange bolts are a common fastener. Flange bolts are widely used in highway and railway bridges, including industrial and civil buildings, cranes, excavators, and other heavy machinery, and have a wide range of applications.
Heatfastener is a professional custom Hex flange bolts manufacturer and supplier, Not only screws but also bolts and other fasteners. Material can be stainless steel, carbon steel, titanium, or aluminum. etc. Metric and Inches are available. Non-standard sizes, materials, and finishes are available to order as specials.
Flange Bolts have many types, like hex flange bolts, serrated flange bolts, partial thread, and full thread.
Types Of custom Flange Bolts We Made
12 Point Hex Flange Captive Bolts
The flange diameter and head thickness of the 12 Point Flange Bolt is equivalent to the head dimensions of a socket head cap screw. This permits the 12-point Flange Bolt to be a replacement for any application currently using a socket head cap screw. The twelve-point design permits this style bolt to be tightened down with a twelve-point socket wrench, which permits higher torque to be applied as compared to a standard internal hex drive socket head cap screw.
A captive thread is a special type of screw that's able to lock into a pre-drilled hole to provide a secure and permanent hold. Like other screws, they feature a head on top and external threading on the sides
10.9 grade Galvanized Serrated Flange Bolts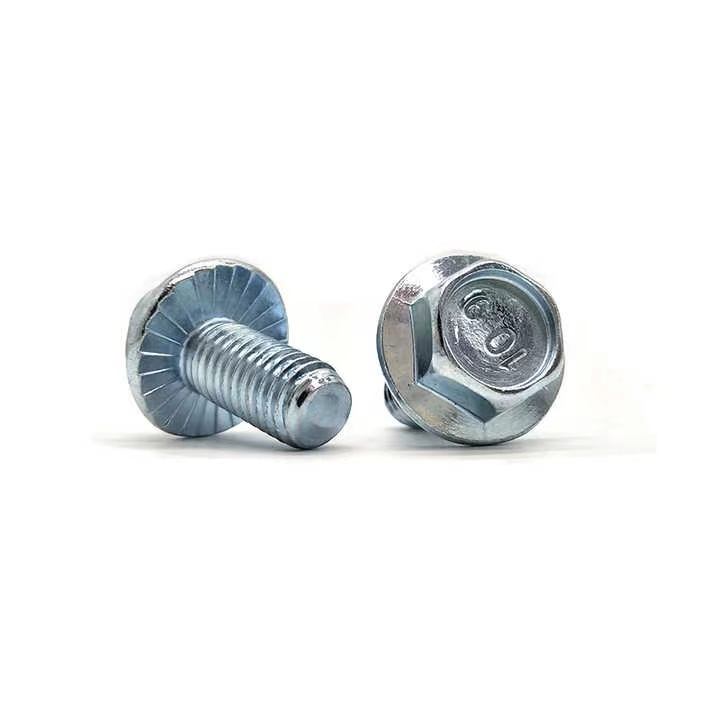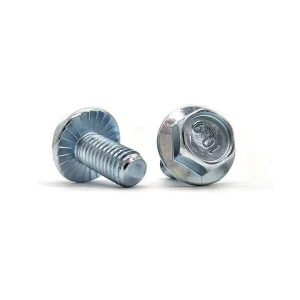 Grade 10.9 metric bolts are manufactured using medium carbon steel, medium carbon steel alloy, and low carbon boron steel that has been quenched and tempered. Used in automotive applications and for bolting large and forged parts, metric 10.9 bolts exhibit high tensile strength and good wear resistance. Grade 10.9 is stronger than grade 8.zinc plated for moderate corrosion resistance.
Bolts with serrated hex flanges are intended for use in situations where loosening forces, such as vibration, are present. The screw requires a lot greater pressure to loosen than to tighten due to the serrations' retention on the bearing surface.
Hex Frame Bolts Wholesale
Frame bolts have a one-piece hex washer head with a flat bearing surface. also called hex flange screws, or hex flange bolts.
Flange / Frame Bolts are used on truck frames. The flange eliminates the need for a washer and helps to compensate when holes are misaligned.
Thread Size:M4,M6,M7,M8,M10,M12,M16,M20 #8 OR CUSTOM
Length:30mm,65mm,70mm,75mm,85mm,80mm,90mm,130mm,140mm,150mm,120mm,200mm
SQUARE SHOULDER SCREWS: An adaptation of the standard carriage bolt design.Possesses a truss head on a square shank, which resists rotation when located in driven into place
INDENTED HEXAGON: A wrench head fastener made to standard hexagon head dimensions, the hex possesses an identifying depression in the top surface of the head
INDENTED HEXAGON WASHER HEAD: The same as the standard indented hexagon head but with a washer section at the base of the head to protect the finish of the assembly from wrench disfigurement, and to economically replace a separate bolt & washer assembly
HEXAGON HEAD(TRIMMED): This is the standard type of wrench applied hexagon head, characterized by clean, sharp corners trimmed to close tolerances, recommended for general commercial applications
HEX FLANGE: Similar to the hex washer with the exception that the top of the washer flange shall be conical or slightly rounded within the periphery of the flange diameter. The contour of the flange edges shall be optional provided minimum flange thickness is maintained
Need Custom Hex Flange Bolts for Your Industry?
As a 20-year industry experience manufacturer with a factory equipped with precision machines, we can provide, from consultation to production, a one-stop solution for you.
Frequently Asked Questions
Other Hex Flange Bolts
Contact Us
Are you looking for screw manufacturers?
24hours online Service