Heatfastener
Hammer Screws Supplier
We're a leading manufacturer of specialty fastening solutions for demanding industrial applications. Our area of expertise is U-drive hammer screws and T head screws manufactured from high-quality, Besides these materials. Carton steel and stainless steel, etc materials are also available. We can also manufacture them per your specific request.
Heatfastener Specialty Manufacturing has been working with original equipment manufacturers for over 100 years, providing excellent and timely customer service. Our team of highly trained professionals utilizes only the latest technology and processing methods to manufacture all of our flat washers. We carefully monitor each washer to be sure it is made to precision. You'll be satisfied with the end results.
What Are Hammer Screws and Application?
A hammer head screw is a type of screw that features a rectangular head or U drive round head shape. They are known as "hammer head screws" because they feature a hammer-shaped head. Hammers, .They have a rectangular head or rounded head,Hammer head screws are characterized by their head, which is the same shape as a hammer.
Hammer drive screws, in steel/electro plated brass or stainless steel, have a coarse thread, making them resistant to rotational forces. Installed with a hammer, they are a self-tapping screw suitable for use in unthreaded holes.Hammer head screws are often used to install anchor rails. An anchor rail is placed over an object, after which a hammer head screw is driven into it. The T head of a hammer head screw will press against the sides of the anchor rail, thus distributing its load against the object more evenly.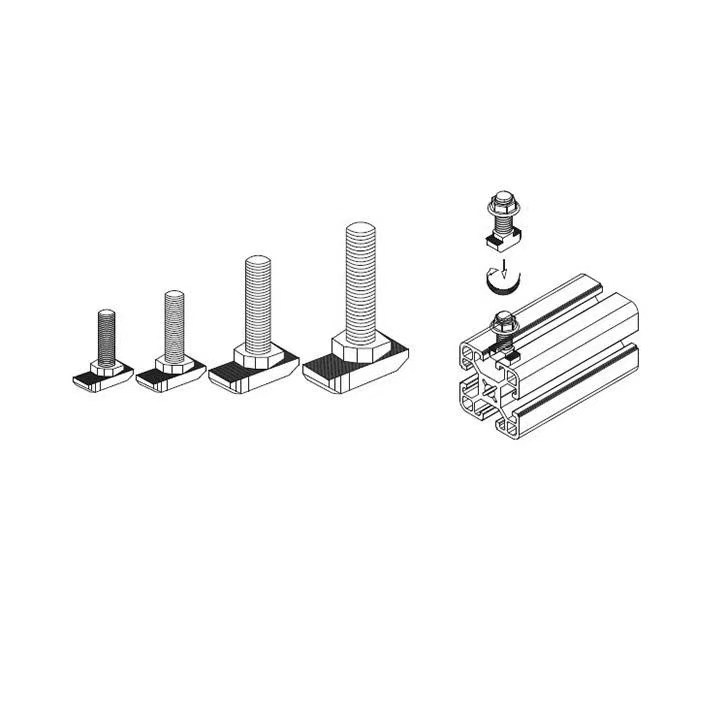 U Drive, Rounded Head Hammer Screws
U-drive screws (also known as hammer drive screws) are unslotted round head self tapping screws often used for attaching nameplates in castings and for sealing drain holes in corrosion-proofing tubular structures. They possess multiple start threads with large helical angles and an unthreaded pilot point.
Materials: Stainless steel/Brass/Copper, Aluminum, etc
Size:#00/customized
Head type: U round head
Thread: Full thread
Coating: Zinc, Customized
MOQ:50000PCS
T Head, Hammer Bolts
Universal fastening element. The hammer-headed screw is twisted into the profile slot and so can mount into existing systems at a later date. The serrations break through the anodized film and create a secure, electrically conductive connection.
Materials: Stainless steel/Brass/Copper, Aluminum, etc
Size: M8X20/M8*25/Customized
Head type: T head
Thread: Full thread
Coating: Zinc, Customized
MOQ:50000PCS
Need Custom Screws For Your Industry?
As a 20-year industry experience manufacturer with a factory equipped with precision machines, we can provide, from consultation to production, a one-stop solution for you.
Related Products
Contact Us
Are you looking for screw manufacturers?
24hours online Service
Related Articles