Heatfastener
O ring Screws Supplier
We're a leading manufacturer of specialty fastening solutions for demanding industrial applications. Our area of expertise is O ring Screws Bolts manufactured from high-quality, materials available in Titanium, Aluminum, Brass, and Copper, Besides these materials. Carton steel and stainless steel 304, stainless steel 316, etc materials are also available. We can also manufacture them per your specific request.
One industry that benefits from using High-Security O ring Fasteners are the medical device industry. Security is critical for electromechanical medical devices that regulate the body. Securing the outside of the device with one of our patented security drives protects the intellectual property inside, while also sealing the contents from contamination.
Heatfastener Specialty Manufacturing has been working with original equipment manufacturers for over 100 years, providing excellent and timely customer service. Our team of highly trained professionals utilizes only the latest technology and processing methods to manufacture all of our fasteners. We carefully monitor each washer to be sure it is made to precision. You'll be satisfied with the end results. Our parts are widely used in aerospace, automotive, electronics, mechanical and electrical products, robot, medical industry, communications industry, outdoor sports products, smart appliances, etc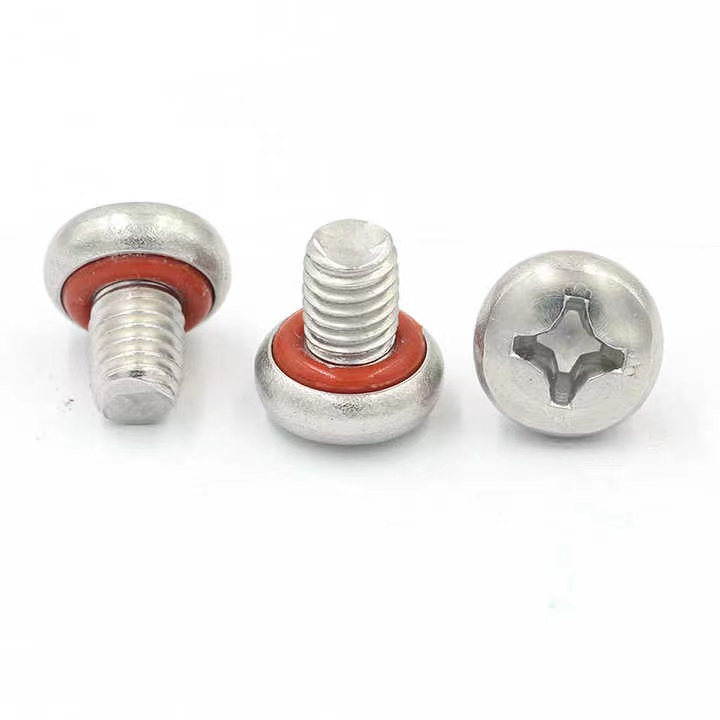 What are O Ring Screws?
O ring screws is a sealing fastener, also called sealing screws or sealing bolts, The O Ring is held captive within a precision engineered groove on the underside of the screw or bolt head, meaning that when the fastener is tightened the O Ring compresses, squeezing between the surface of the mating component and the groove to form the seal.
Benefits of O ring Screws
O-ring screws are useful tools that offer lots of features and benefits. They are equally as very easy to mount as traditional fasteners, provide metal-to-metal calls for a resilient connection and can work with a wide range of surface coatings. The main benefits of selecting Sealing Screws or Bolts for your application are that they're pre-assembled and reusable, meaning a huge reduction in setup time and cost for installation or replacement.
A wide variety of application-specific options during manufacturing, o ring materials including o ring materials include buna, Viton, silicone,fluorosilicone, thread locking for anti-vibration, and tamper-proof head
Adaptability in settings with temperature levels of approximately +500 ° F.
Capability to be re-installed without destruction of the silicone O-ring.
Safe setup and also uninstallation without the use of dangerous chemicals or difficult disposal requirements.
UL is recognized as well as supply positive sealing, also in atmospheres under pressure or vacuum.
Application of O ring screws
Self Sealing Screws, as with ordinary screws, can be used in a wide range of industries, including Aerospace, Energy, and Medical Devices.
Air conditioning equipment
Cylinders
Engines
Equipment housings and cabinets
Food processing systems
Fuel tanks
Gearboxes and transmissions
Hydraulic systems
Instrument housings and panels
Medical equipment
Military equipment
Motor housings
Portable communications equipment
Pressure gauges
Pumps
Valves
Captive O Ring Screws and Tamper Proof Sealing Screws along with a pre-applied thread locking patch option, are also available from Heatfastener for applications where extra security and/ or increased resistance to vibrations are required.
Need Custom Screws For Your Industry?
As a 20-year industry experience manufacturer with a factory equipped with precision machines, we can provide, from consultation to production, a one-stop solution for you.
Related Products
Contact Us
Are you looking for screw manufacturers?
24hours online Service
Related Articles