Heatfastener
Countersunk Washers Manufacturer
We're a leading manufacturer of specialty fastening solutions for demanding industrial applications. Our area of expertise is custom countersunk washers, manufactured from high-quality, Plastic, Nylon, Carton steel and stainless steel, etc materials. We can also manufacture them per your specific request.
Heatfastener Specialty Manufacturing has been working with original equipment manufacturers for over 100 years, providing excellent and timely customer service. Our team of highly trained professionals utilizes only the latest technology and processing methods to manufacture all of our flat washers. We carefully monitor each washer to be sure it is made to precision. You'll be satisfied with the end results.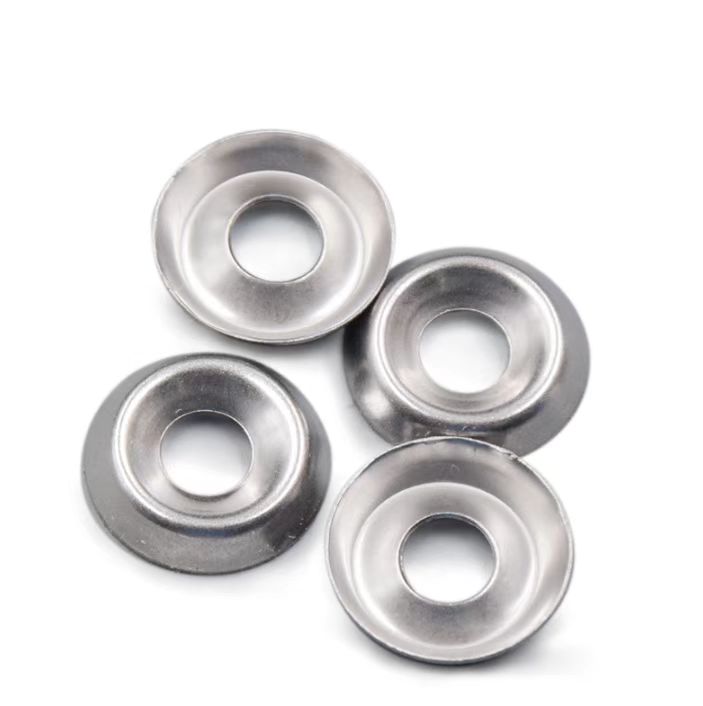 What are Countersunk Washers?
Countersunk washers referred to as finishing washers which are washers that dip inward radially. To put it simply, they are raised on the sides. . The sides of countersunk washers are raised, yet the center is reasonably level as well as not increased. provide a flush surface and are custom manufactured in several common styles including 90 degrees, angle, flanged, un-flanged, and rolled flange.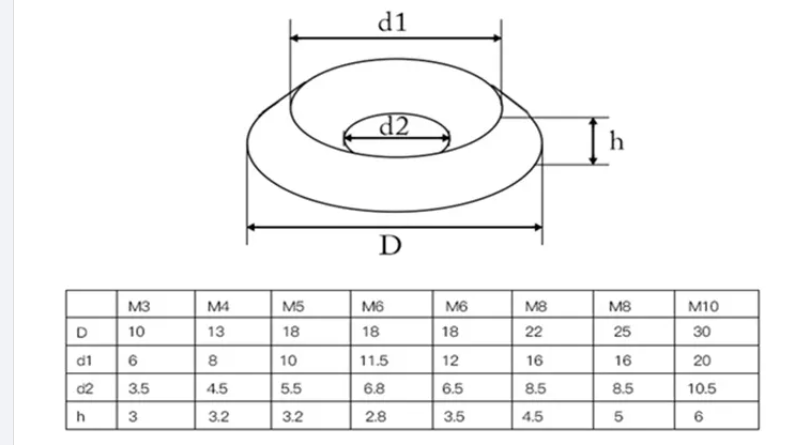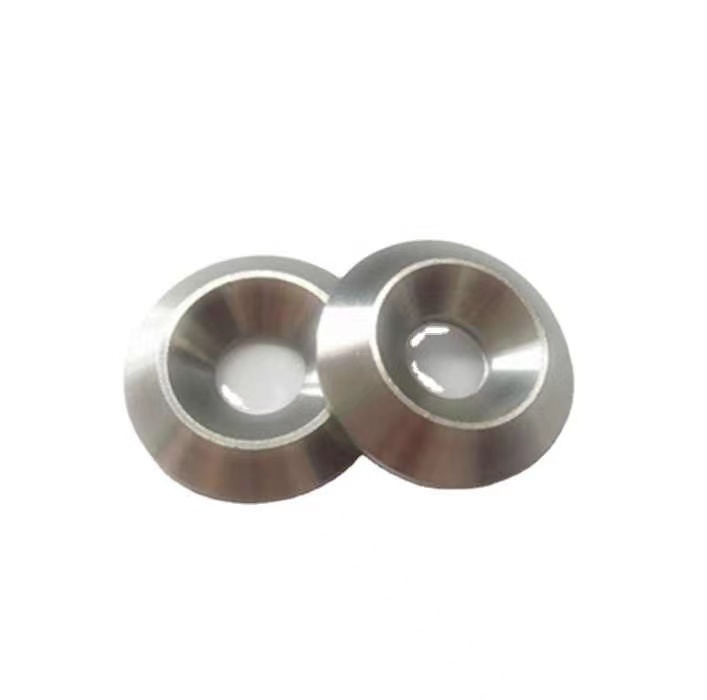 | | M3 | M4 | M6 | M6 | M8 | M8 | M10 |
| --- | --- | --- | --- | --- | --- | --- | --- |
| D | 10 | 13 | 18 | 18 | 22 | 25 | 30 |
| d1 | 6 | 8 | 11.5 | 12 | 16 | 16 | 20 |
| d2 | 3.5 | 4.5 | 6.8 | 6.5 | 8.5 | 8.5 | 10.5 |
| h | 3 | 3.2 | 2.8 | 3.5 | 4.5 | 5 | 6 |
How to Choose the Countersunk Washers?
The washer is a machine component that is used in conjunction with a screw fastener such as a bolt and nut, and that usually serves either to keep the screw from loosening or to distribute the load from the nut or bolt head over a larger area. Most notably, washers protect the surface from damage during installation. They distribute the pressure and prevent the fastener from moving or corroding. Skipping on washers can dramatically reduce the lifespan of how your product is put together. Ultimately, that leads to disaster for the product itself.
Countersunk washers are washers that have good protection against vibration compared with flat washers, when we fit in products, they will give against the object of anti vibrations. countersunk washers basically have good performance as spring. Driving a threaded bolt with the center will certainly compel the sides of the countersunk washer to collapse, also pressing against the things. The end outcome is a higher defense against resonances, which if left unchecked, might otherwise create washers to loosen.
When we choose the countersunk washer, first we need to know what kind of materials we need, they are many materials made of like stainless steel, carbon steel, aluminum, brass, copper, and more. we have to know which materials are needed by us. Also, besides materials, the second is the sizes and dimensions which match your bolts and nuts.
Need Custom Bolts For Your Industry?
As a 20-year industry experience manufacturer with a factory equipped with precision machines, we can provide, from consultation to production, a one-stop solution for you.
Related Products
Contact Us
Are you looking for screw manufacturers?
24hours online Service
Related Articles