Heatfastener
Anchor Bolts
Supplier
Heatfastener is an ISO 9001:2015 manufacturer specializing in the Global supply of Anchor bolts, custom bolts, Flange Bolts, and Carriage Bolts. Hex Bolts, Titanium Bolts, Expansion Bolts, custom fasteners, etc.
All of the products are widely used in the medical, instrumentation, aerospace, maritime, microwave, electronics, and chemical equipment industries, we have designed and manufactured key components for world-famous enterprises and are committed to providing our customers with high-quality products, high-level services, and continuous improvement
With ISO9001:2008,iso14001:2004, and especially IAFT16949:2009 certification for the automotive industry. Heatfastener offers fully customized custom bolts and screws according to your needs. We can bring your fastener design to reality, and everything according to your requirements.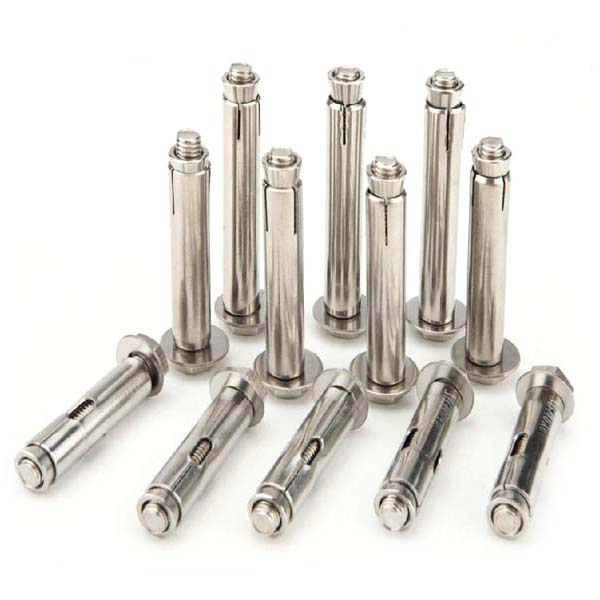 What are Anchor Bolts and their Application?
an anchor bolt is a heavy-duty fastener that's designed to secure objects to concrete. Steel poles, for example, are often mounted onto concrete surfaces using anchor bolts. The anchor bolts are driven through the base of the pole and into the concrete itself. Thanks to the unique design of anchor bolts, the pole remains stable and secure. Each anchor fixing is best suited to a particular material. For example, loose bolts work well with concrete but cannot be used on a hollow brick wall. Concrete anchor bolts come in various materials and finishes, such as stainless steel, zinc-plated, and galvanized steel.
Types of Anchor Bolts
All anchor bolts are created to attach objects to concrete, however, the way in which they perform this job varies depending on the kind. One of the most usual sorts of support bolts is cast in place. It's called "cast in position" due to the fact that it's literally cast with concrete. To install an actors-in-position support bolt, you first drill a suitably sized opening into the concrete surface area. Next, you place the bolt into the hole. Finally, you put damp concrete right into the remaining room. The damp concrete will normally border the screw, and as soon as it solidifies, the anchor screw shouldn't budge.

There are additionally pierced in position anchor bolts. Likewise called post-installed support bolts, they do not call for using damp concrete. You just pierce them into set concrete. Just how do drilled-in-place anchor screws function exactly? Some pierced in position support screws count on the buildings of mechanical development. When you pierce them right into concrete, they'll compress and/or increase. Other kinds of pierced in position anchor screws call for the use of adhesives, such as epoxy, to maintain as well as stop activity.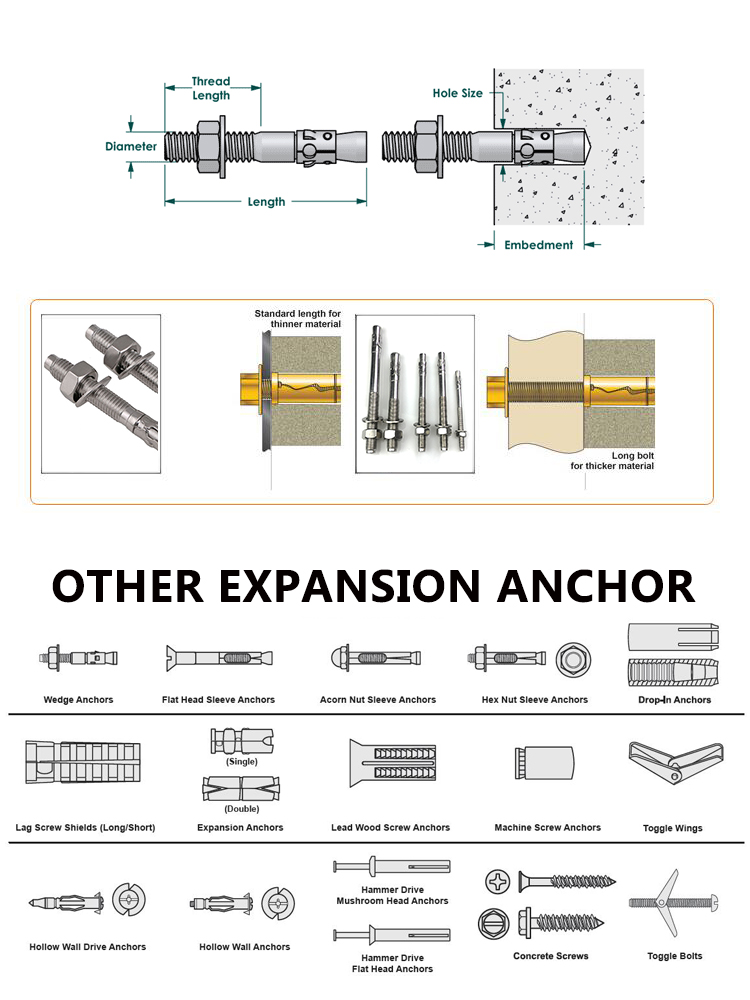 Wedge Anchors: Wedge anchors are a unique type of concrete anchor, designed to anchor objects into concrete applications. Concrete Wedge Anchors are installed into a pre-drilled hole using the appropriate Concrete Drill Bit, where the wedge is expanded by tightening the nut.
Sleeve Anchors: Sleeve anchors include flat head sleeve anchors and acorn nut sleeve anchors, hex nut sleeve anchors which are quick, easy & versatile masonry anchoring systems, that expand against the base material when the bolt is tightened to allow for a stronger connection and to help distribute load-bearing weight.
Drop-in Anchors:Drop-In anchors are female concrete anchors designed for anchoring into concrete. Drop the anchor into the pre-drilled hole in the concrete. Using a setting tool expands the anchor within the hole in the concrete. Drop-in anchors require a setting tool to install.
Lag Screw Shields: The Lag Screw Shield is a corrosion-resistant anchor designed to be used with lag screws in concrete and the mortar joints of brick and blocks walls. For soft or weak masonry, the long version is recommended to add strength to the substrate
Expansion Anchors: Expansion anchors are fasteners designed for use in masonry base material that provides holding power through expansion. There are two kinds of expansion anchors; pre-expanded and unexpanded. The pre-expanded expansion anchor is inserted in a predrilled hole compress and then exerts force to create the holding power
Lead Wood screw Anchors: Leadwood Screw Anchors are female concrete anchors for anchoring into concrete, brick or block. The sheet metal screw expands the Lead
Machine Screw Anchors: Concrete Machine Screw Anchors are female-type concrete anchors designed for anchoring into concrete, brick, or block. Concrete Machine Screw Anchors have internal machine screw threads. Machine Screw Anchors require a setting tool to install. If you do not have a setting tool, be sure to purchase one.
Hollow Wall Anchors: Hollow-wall anchors are the simplest, easiest to install as well as the weakest connection. They can only be used in hollow walls like drywall and blue board. They are inserted into a pre-dilled hole and work by spreading within the hollow of the wall
Hammer Drive Anchors: Hammer Drive Anchors can be used in concrete, brick, and block base materials, and are best suited for light-duty fastening. Hammer Drive Anchors are available in 3/16" and 1/4″ diameters, and up to 3" long. The hole diameter required for a Hammer Drive Anchor is equal to the diameter of the anchor.
How Do Anchor Bolts Work?
Generally, you pierce a hole into the concrete using a power drill with a stonework bit, screw the washer on top of the bolt, place it in the drilled opening, hammer it to ensure it reaches the bottom, and also tighten up the nut until it is safe. You can then remove the washer.
At Toolstation, we stock professional quality steel anchors, mendings, anchor bolts as well as accessories from leading brands such as Rawlplug, Fischer, DeWalt, and HEAD. Our series of steel supports includes masonry bolts, via screws, concrete screw anchors, loosened screws, steel cavity supports, and also wire hangers.
The Benefits of Anchor Bolts?
Anchor bolts are the cost-effective anchoring solution for high-performance requirements in cracked and non-cracked concrete and in areas subject to seismic influences. The easy installation saves time. The drill hole is made, the anchor is hammered in, and the nut is tightened with a controlled torque. The cone bolt expands against the wall of the drill hole. The anchors are made from normal steel, hot-dip galvanized steel, stainless steel, and highly corrosion-resistant steel. They safely introduce the loads into the base material through friction locking.
Heatfastener is a custom anchor bolts manufacturer and supplier, Materials can be stainless steel, brass, titanium, copper, aluminum, we can customize depending on the application
Frequently Asked Questions
Need Custom Bolts for Your Industry?
As a 20-year industry experience manufacturer with a factory equipped with precision machines, we can provide, from consultation to production, a one-stop solution for you.
About Us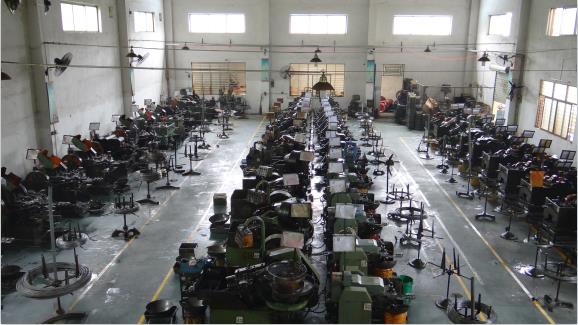 Shenzhen Heat Hardware Co., Ltd is a leading custom screw manufacturer in China founded in 2000 years. We are specializing in custom screws, security screws, Sems screws, Chicago Screws, Weld Screws, Long screws, Micro Screws, Thumb Screws, Set Screws, Custom bolts, carriage bolts, nuts, and other custom Fasteners. With more than 20years of industry experience. We have serviced over 20000customers including the aerospace industry, automotive industry, electronics, mechanical and electrical products, robots, the Medical industry, communications industry, Outdoor sports products, smart appliances, etc. we can provide one-stop fastener customized service for you no matter what kind of custom fastener you need.
Contact Us
Are you looking for screw manufacturers?
24hours online Service
Blogs