Heatfastener
Titanium Fasteners Supplier
Heatfastener is a full-service Titanium fasteners screws bolts manufacturer supplier. We can manufacture joining solutions for your application from an array of Titanium alloys, which include Grades 1, 2, 3, 4, 5, 6, 7, 9, 11, 12, 19, 23 as well as 6-2-4-2, 6AI-6V-2Sn, 15V-3-3-3, 8Al-1Mo-1V, 10V-2Fe-3Al, Alpha Alloys, Beta Alloys, and Alpha Beta Alloys.
With decades of experience, our team specializes in manufacturing Titanium alloys into precision piece parts. Here's our complete line of fastening solutions:
Captive Screws
Machine Screws
Self-tapping screws
Weld screws
Shoulder screws
Chicago screws
Thumb Screws
Security screws
Small screws
Socket Cap screws
Carriage Bolts
Flange Bolts
Hex Bolts
T Bolts
U Bolts
Expansion Bolts
Eye Bolts
Hook Bolts
Sealing Bolts
Elevator Bolts
Hex Nuts
Flange Nuts
Lock Nuts
T Nuts
Rivets
Washers
Pins
Titanium's corrosion rate is so low that after 4,000 years in seawater, corrosion would only have penetrated the metal to the thickness of a thin sheet of paper. Additional characteristics of Titanium include:
Erosion resistance
Low adhesion
Low shrinkage
Oxide resistance
Low thermal expansion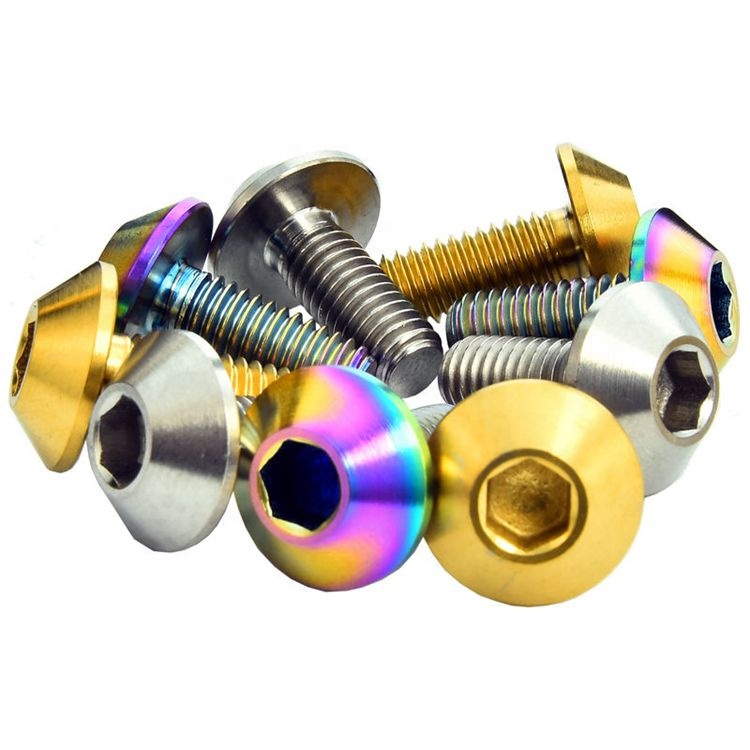 What is Titanium
A metal, titanium has a silver-to-grey coloring. Its atomic number is 22, and its sign as a chemical component is Ti. It uses a high strength-to-weight ratio, developing a very solid compound. Titanium additionally supplies a high warmth transfer performance in addition to being very resistant to rust. Because of this, it is preferable for use in certain sectors such as buildings, where temperature level adjustments, as well as the elements of weather conditions, can develop negative impacts on architectural elements.
Titanium uses a high level of mechanical resistance, making it incredibly long-lasting. Its low thickness makes it lightweight, including its value in specific sectors. Its corrosion resistance is found throughout a large field, making it resistant to rust created by a large array of alkalis, acids, commercial chemicals, and also natural waters.
Usage of Titanium Fasteners
Applications for Titanium Fasteners
Titanium fasteners are used in applications where a high strength to weight ratio, excellent resistance to stress corrosion cracking, high corrosion resistance, and good fatigue strength are desired. These include military and commercial maritime applications. Titanium is a strong and lightweight metal that is highly resistant to corrosion and extreme temperatures. As a result, it's a fastening solution for various applications that desire high performance without mass.
An indicate note: Whilst Titanium has outstanding chloride resistance, it responds terribly to solid acids like hydrochloric acid or sulfuric acid, which strike the safety passive layer that Titanium types when revealed to oxygen. This can trigger deterioration.
Titanium screws, titanium bolts as well as repairings, are made use of in applications where high stamina to weight proportion, outstanding resistance to tension rust splitting, and also high rust resistance are required.
Titanium Fasteners are immune to the deep sea, making them appropriate for usage in maritime applications. They are likewise immune to virtually every chlorine or chloride service, consisting of chlorite, hypochlorite, chlorate, perchlorate, and also chlorine dioxide. If the chlorine is utilized with the lack of water, however, or as a gas, this can create quick rust.
The stamina and also reduced weight of Titanium make it extremely distinct, and also some qualities of Titanium can be anywhere from 2 to 4 times more powerful than Stainless-steel. These functions make Titanium perfect in some aerospace, clinical, and also armed forces applications.
Aerospace
Electronics
Oil and gas
Petrochemicals
Consumer products
Transportation
Agriculture
Heavy machinery
Construction
Automotive
Medical
Military
Types Of Titanium Utilized in fasteners as well as Fixings
We generally supply bolts made from Quality 2 or Quality 5 Titanium.
Titanium Quality 2 is unalloyed titanium, classified as "readily pure". This is commonly utilized in commercial applications because of its modest toughness, superb liquid rust resistance as well as formability.
Titanium Quality 5 is alloyed with 6% Lightweight aluminum and also 4% Vanadium. Quality 5 Titanium bolts can hold up against temperature levels over 400 levels C. as well as are remarkably solid– commonly made use of in maritime as well as Aerospace applications.
Titanium Fasteners Bolts Screws Vs Stainless steel
Titanium is resistant to acid and alkali corrosion, so ti screws are generally more expensive. As a raw material for the production of titanium screws, titanium is a highly active metal. Compared with stainless steel, titanium screw have better flexibility and oxidation resistance.
Need Custom Fasteners for Your Industry?
As a 20-year industry experience manufacturer with a factory equipped with precision machines, we can provide, from consultation to production, a one-stop solution for you.
Contact Us
Are you looking for screw manufacturers?
24hours online Service
Blogs