Heatfastener
T Bolts
Manufacturer
Heatfastener is a professional manufacturer of T bolts manufacturer and supplier. Focus on providing accessories and services for all types of custom fasteners. After several years of hard work and development, We have become the leading manufacturer in China, we have a certain scale and strength, we now have a skilled production team and service team to provide quality service and quality to customers from all over the world. We also offer customized services. We always adhere to being "customer-centric" and "creating value for customers" as our goal, and service to help our customer improve their competitive advantage.
Our products are mainly used in the automotive industry, high-speed railway industry, aviation industry, medical equipment industry, etc, we have designed and manufactured key components for world-famous enterprises, we are committed to providing our customers with high-quality products, high-level services, and continuous improvement
Heatfastener offers fully customized custom bolts and screws according to your needs. We can bring your fastener design to reality, and everything according to your requirements.
.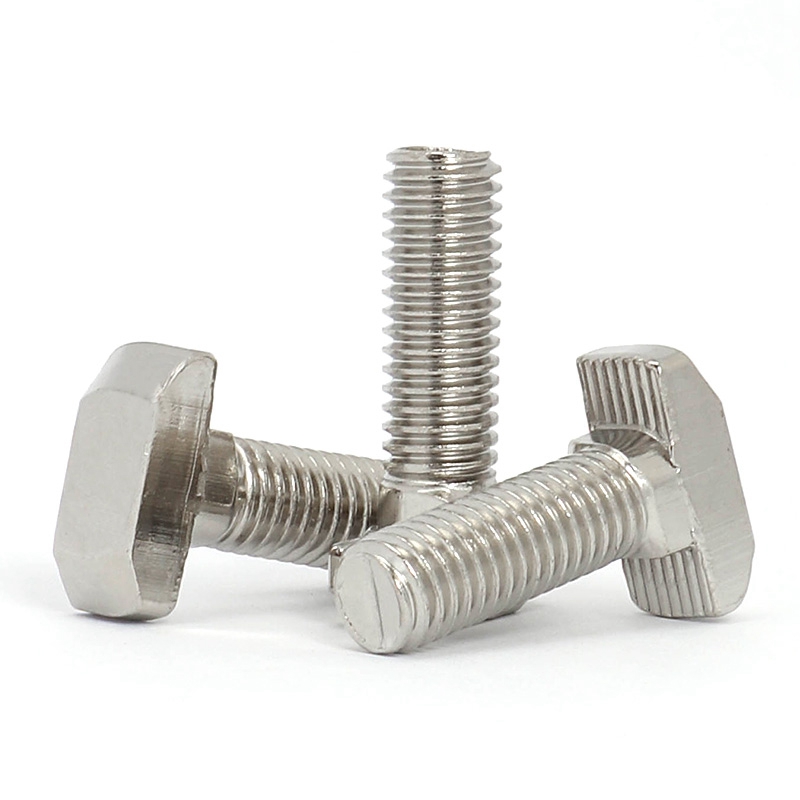 T Bolts Details
T-bolts, also known as T-slot bolts are threaded fasteners used to connect accessories to a framework. T-Slot Bolts are fasteners with threads on one end and T-shaped heads on the other specifically designed to fit into T-shaped slots, These bolts are distinguished by their hammer-shaped heads and serrated teeth that allow a strong electro-conductive connection. These bolts are used for set-up on milling machines, shapers, planers, and other similar applications. Norwood Screw Machine Parts provides T-bolts with various specifications to meet customer requirements.
The length of these bolts is measured from beneath the head, including the threaded or unthreaded positions on the shank of the fastener.,Heatfastener produces high-quality custom T bolts.
T bolts and T nuts come in a variety of diameters and lengths. We carry them in coarse and fine thread. Listed below are the diameters we carry:
Materials:
Stainless steel – SS302, SS304, SS316, (good tenacity),Stainless steel A2 A4
Steel – C45(K1045), C46(K1046),C20
Brass – C36000 ( C26800), C37700 ( HPb59), C38500( HPb58),C27200CuZn37), C28000(CuZn40)
Bronze–C51000, C52100, C54400, etc
Aluminum – Al6061, Al6063 etc
Carbon steel – C1006,C1010,C1018,C1022,C1035K,C1045
Alloy steel – SCM435,C10B21,C10B339
Other material– Titanium, UNS C11000 Copper,silicon
Others:
Grade: Grade 4.8,Grade 6.8,Grade 8.8,Grade10.9,Grade12.9 etc
Standard:GB,DIN,ISO, ANSI/ASTM,BS,BSW,JIS, Metric, Inch
Finish:Plain, H.D.G, Black oxide, Chrome, Teflon,dacromet,Anodized,With nylok
Certificates: ISO9001:2015, ISO14001:2015,IATF16949, ROHS
Non standards:OEM is available,according to customer requirments
Head type&Drive Type
Head Type:Flat, Oval, Binding, Pan, Round, Truss, Button, PF,Cheese,Fillister, Pan Washer, Cylinder,Hexagon, Indented Hexagon,Washer
Drive Type:Phillips, Slotted, Phiilips/Slotted, 6 Lobe, Pin 6 Lobe, Pozidrive, Square, Triangle,Y type. Tri-wing, S-type, H type, Hexagon, 5 Point,8 point, Spline, Spanner, Clutch, Hex pn,torx pin
Thread Type:Machine screws,bolts, self tapping etc
Application
T-Head Bolts, otherwise known as Hammer-Head Bolts, are used in a range of applications – such as the fastening of lift guide rails. They are able to be placed flexibly in required positions within anchor channels. Able to be fitted flush within the housing hole or object, but the T-Head Bolts can also be combined with angled pieces in order to bridge the distance, These bolts are used for determining the maximum tensile strength and are placed in T slots in the machine table.
T track Bolts are the Track bolts, also called fang bolts or rail anchor bolts, which are used to fix steel rails and rail chairs to rail ties or to fasten rail joints to link rails. The track bolt is a bolt inserted through a hole in a rail tie with a fanged nut that embeds into the lower surface of the tie.
Also, our custom fastener, bolts, screws are widely used in the below industries
Electronics
Petrochemicals
Consumer products
Transportation
Agriculture
Heavy machinery
Construction
Automotive
Medical
Military
Aerospace
Oil and gas
There are different types such as the channel t bolts. The bolts can also be made from nickel alloys and 304, 316, 410 types of materials. There are Allen bolts, eye bolts, hex head bolts, hanger bolts, carriage bolts, and metric t bolts, each used in specific use cases.
T Slot Bolts
T track bolts
Square T bolts
T bolts clamps
forged t bolt
threaded t-bolt
round neck
Heatfastener carries all kinds of T bolts and custom screws and bolts, nut, from Micro M1 to Large. M2,M3,M4,M5,M6,M8,M10,M12,M14,M16,M20,and more and specially specialty T bolts
| A | B | C | D | E | F |
| --- | --- | --- | --- | --- | --- |
| M5 | 12 | 4 | 10 | 6 | 3 |
| M5 | 16 | 4 | 10 | 6 | 3 |
| M6 | 12 | 5.5 | 15.5 | 8 | 2.6 |
| M6 | 16 | 5.5 | 15.5 | 8 | 2.6 |
| M6 | 20 | 5.5 | 18 | 8 | 2.6 |
| M8 | 16 | 5.5 | 18 | 8 | 4.5 |
| M8 | 20 | 5.5 | 18 | 8 | 4.5 |
| M8 | 25 | 5.5 | 18 | 8 | 4.5 |
| M8 | 30 | 5.5 | 18 | 8 | 4.5 |
| M8 | 35 | 5.5 | 18 | 8 | 4.5 |
| M8 | 40 | 5.5 | 18 | 8 | 4.5 |
| M8 | 20 | 6 | 19 | 10 | 5 |
| M8 | 25 | 6 | 19 | 10 | 5 |
T bolts chart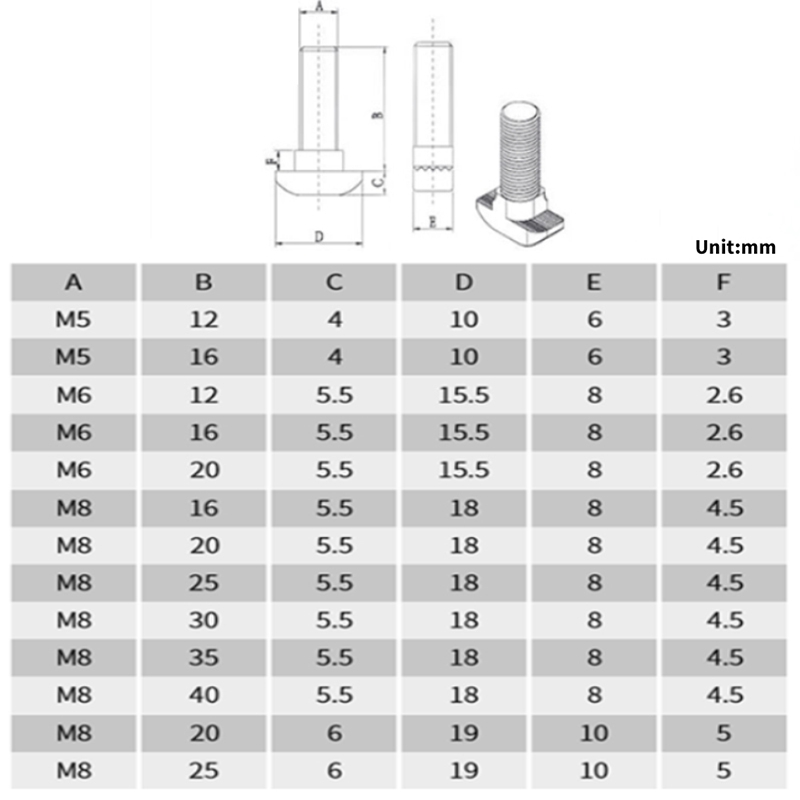 Need Custom T Bolts for Your Industry?
As a 20-year industry experience manufacturer with a factory equipped with precision machines, we can provide, from consultation to production, a one-stop solution for you.
About Us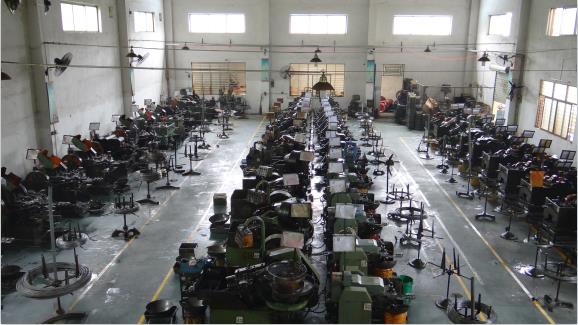 Shenzhen Heat Hardware Co., Ltd is a leading custom screw manufacturer in China founded in 2000 years. We are specializing in custom screws, security screws, Sems screws, Chicago Screws, Weld Screws, Long screws, Micro Screws, Thumb Screws, Set Screws, Custom bolts, carriage bolts, nuts, and other custom Fasteners. With more than 20years of industry experience. We have serviced over 20000customers including the aerospace industry, automotive industry, electronics, mechanical and electrical products, robots, the Medical industry, communications industry, Outdoor sports products, smart appliances, etc. we can provide one-stop fastener customized service for you no matter what kind of custom fastener you need.
Frequently Asked Questions
Related Custom Bolts
Contact Us
Are you looking for screw manufacturers?
24hours online Service
Blogs