Heatfastener
Best Wheel Bolts And Nuts Manufacturer
Heatfastener is the largest custom screws and bolts, fasteners, Wheel Bolts, And wheel Nuts manufacturer, and supplier in China.was founded, specializing in CNC parts, custom fasteners production, to provide the most valuable solution to customers.
Under the precondition of quality assurance, we provide the price more competitive than the average level in the market
We are a manufacturer and also wholesale, non-standard, customized parts and provide one-stop customized service.
Experienced R&D department and advanced testing equipment to make sure our products meet customer's requirements, expect to set up long term cooperation with every customer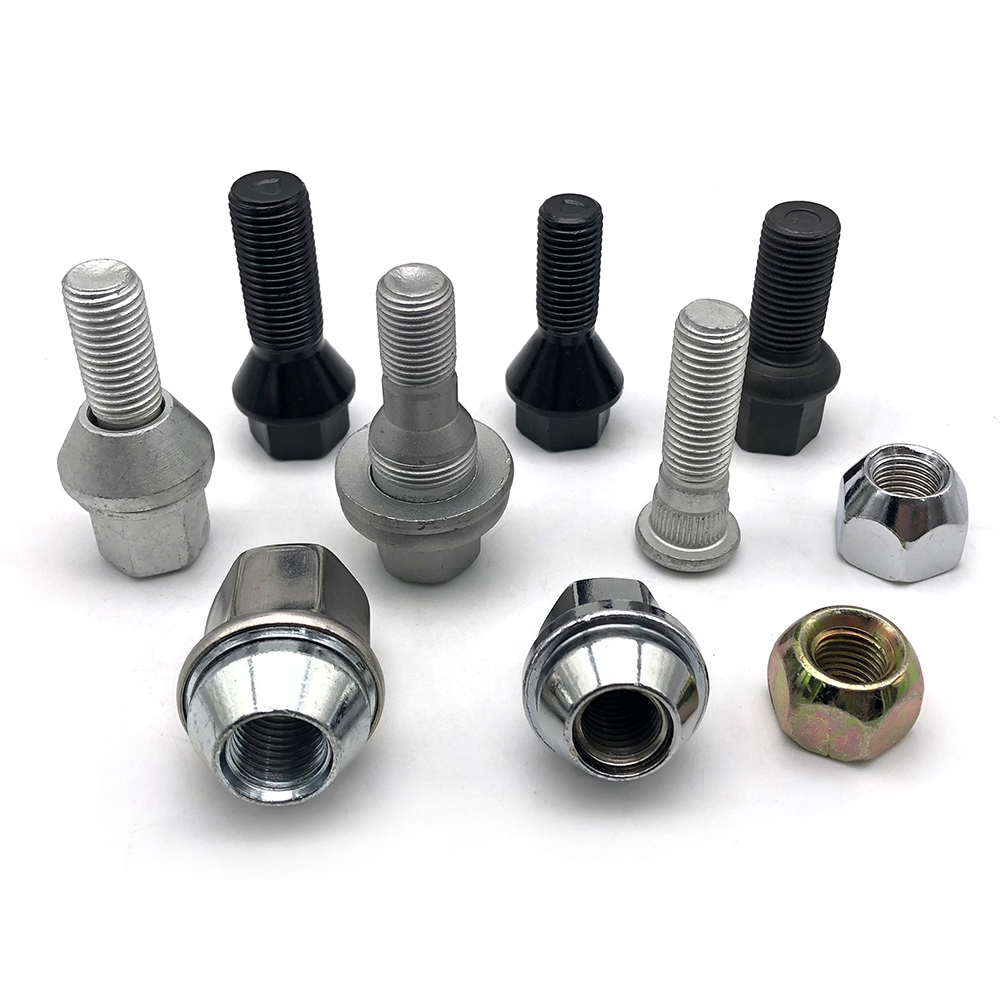 Hex Wheel Bolts and Nut
A lug nut or wheel nut is a fastener, specifically, a nut used to secure a wheel on a vehicle. They are generally thick than hex nuts of the same size.
Typically, lug nuts are found on automobiles, trucks (lorries), and other large vehicles using rubber tires.
Wheel studs are the threaded fasteners that hold on the wheels of many automobiles, they are semi-permanently mounted directly to the vehicle hub, usually through the brake drum or brake disk
The lug nut thread type varies between car brands and models. Examples of commonly used metric threads include 1.M10x1.25 mm 2.M12 (1.25, 1.5 or 1.75 mm thread pitch, with M12x1.5 mm being the most common[3]) 3.M14 (1.25, 1.5 or 2 mm pitch, with M14x1.5 mm being the most common)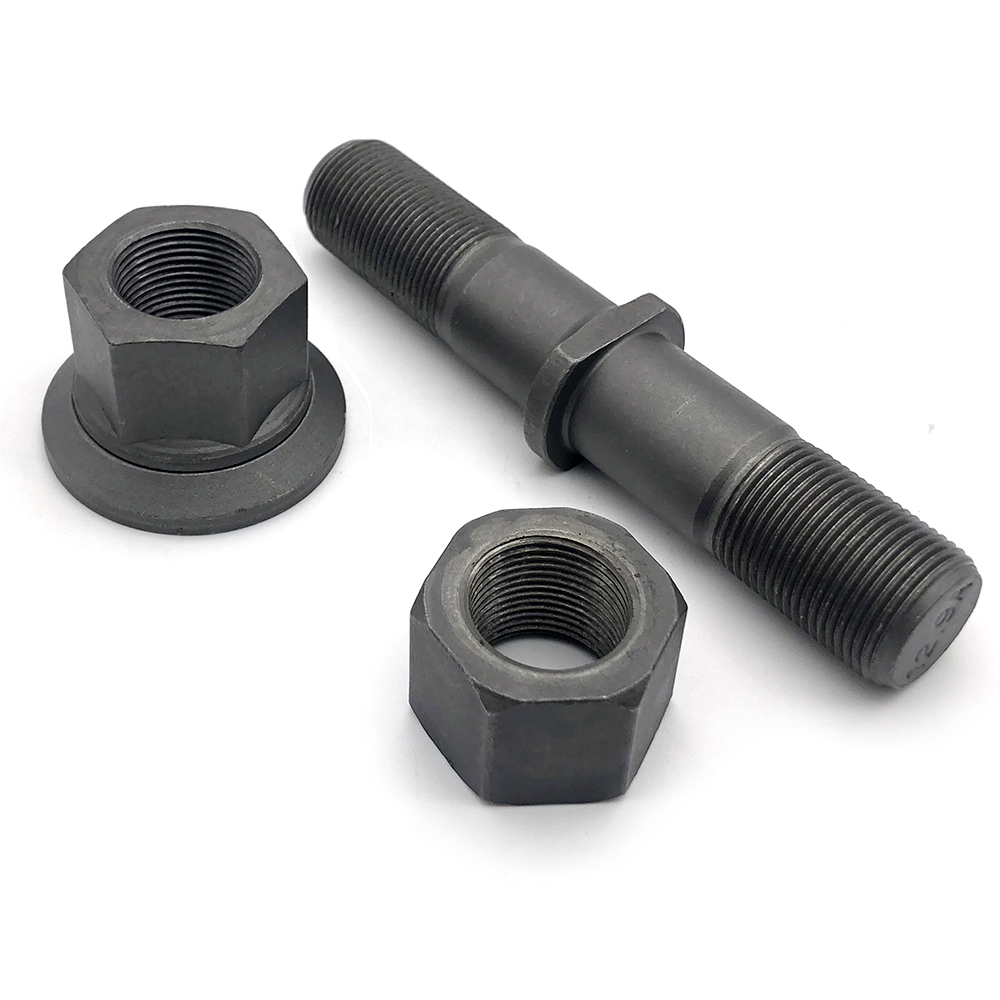 Titanium Wheel Bolts and Nuts
01.
Quality Workmanship
Beautiful appearance, smooth and firm
02.
Environmental protection and pollution-free
Healthy lead-free, more assured use
03.
High-quality Materials
High-quality raw materials, not easy to damage, deep thread and uniform stress
04.
Wheel nut types
Wheel lug nuts may have different shapes, there are 4 common lug nut types
Wheel Nuts and Bolts Application
Wheel bots and nuts are a kind of automotive fasteners. A lug nut is a nut fastener with one rounded or conical (tapered) end, used on steel and most aluminum wheels. A set of lug nuts is typically used to secure a wheel to threaded wheel studs and thereby to a vehicle's axles. Some designs use lug bolts or wheel bolts instead of nuts, which screw into a tapped (threaded) hole in the wheel's hub or brake drum or brake disc.
Wheel lug nuts may have different shapes. Aftermarket alloy and forged wheels often require specific lug nuts to match their mounting holes, so it is often necessary to get a new set of lug nuts when the wheels are changed.
There are 4 common lug nut types:
cone seat bulge cone seat under hub cap spline drive. The lug nut thread type varies between car brands and models.
Common dimensions of wheel nuts:
M10x1.25 mm M12 (1.25, 1.5 or 1.75 mm thread pitch, with M12x1.5 mm being the most common) M14 (1.25, 1.5 or 2 mm pitch, with M14x1.5 mm being the most common) M16x1.5 mm
Related Products
Not Find What You Need?
As a 20-year industry experience manufacturer with a factory equipped with precision machines, we can provide, from consultation to production, a one-stop solution for you. For an accurate quotation, You can tell us specifications, quantities, applications. Then we can offer you.
Best Quality
We have rich experience in the manufacture, design, and application of custom fasteners, and served more than 10000 customers worldwide
Competitive Price
we have an absolute advantage in the cost of raw materials. Under the same quality, our price is generally 10%-30% lower than the market.
Test
With more than 22 years, we already have completed the control system and test equipment, we can provide all tests you need
After-Sale
Any feedback will be replied to within 24hours, We provide a 3-5 years guarantees policy. And all costs by us will be on our account.
Fast delivery
If you need urgently, we can deliver samples within 8hours. Bulk order can be within one week
Frequently Asked Questions
About Us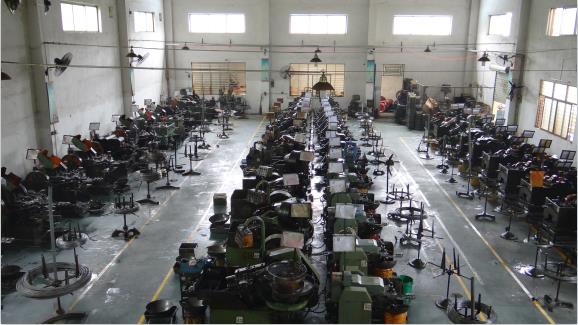 Shenzhen Heat Hardware Co., Ltd is a leading custom screw manufacturer in China founded in 2000 years. We are specializing in custom screws, security screws, Sems screws, Chicago Screws, Weld Screws, Long screws, Micro Screws, Thumb Screws, Set Screws, Custom bolts, carriage bolts, nuts, and other custom Fasteners. With more than 20years of industry experience. We have serviced over 20000customers including the aerospace industry, automotive industry, electronics, mechanical and electrical products, robots, the Medical industry, communications industry, Outdoor sports products, smart appliances, etc. we can provide one-stop fastener customized service for you no matter what kind of custom fastener you need.
Blogs
Contact Us
Are you looking for screw manufacturers?
24hours online Service
Production Process
We have a variety of production requirements of equipment, can meet any customized demands. can provide comprehensive fastener solutions. Anything you need can make by Heatscrew.