Heatfastener
Socket Head cap Screws
Supplier
Heatfastener is a professional engaged in the production of socket head cap screws and custom screws and 23 years of research and development of screw suppliers. The company has been working to solve the production of non-standard screw parts which are unable to be produced by others fastener manufacturers. We mainly produce high-precision screws, bolts, and other non-standard specific fasteners. In the traditional screw industry, we undertake high-strength, high-precision custom screws. We offer OEM and ODM service to meet clients' special screw needs
With ISO9001:2008,iso14001:2004, and especially IAFT16949:2009 certification for the automotive industry. Heatfastener offers fully customized custom bolts and screws according to your needs. We can bring your fastener design to reality, and everything according to your requirements.
Socket Head Cap Screws Details
Socket cap screws, also known as socket head cap screws, socket screw, or Allen bolt, is a type of cap screw with a cylindrical head and hexagonal drive hole. Hex Cap Screws are fasteners featuring a hexagonal, six-sided, head with a washer face on the bearing surface and a chamfered point. Commonly used in construction and machine assemblies, hex cap screws are one of the most common fasteners used on the job site today.
We also manufacture our socket head cap screws with pin-in socket drives, spline drives, and 6 lobe drives. We can also supply them with a nylon patch or pellet. We can also manufacture these items in special materials and custom made as below listed:
Materials:
Stainless steel – SS302, SS304, SS316, (good tenacity),Stainless steel A2 A4
Steel – C45(K1045), C46(K1046),C20
Brass – C36000 ( C26800), C37700 ( HPb59), C38500( HPb58),C27200CuZn37), C28000(CuZn40)
Bronze–C51000, C52100, C54400, etc
Aluminum – Al6061, Al6063 etc
Carbon steel – C1006,C1010,C1018,C1022,C1035K,C1045
Alloy steel – SCM435,C10B21,C10B339
Other material– Titanium, UNS C11000 Copper,silicon
Others:
Grade: Grade 4.8,Grade 6.8,Grade 8.8,Grade10.9,Grade12.9 etc
Standard:GB,DIN,ISO, ANSI/ASTM,BS,BSW,JIS, Metric, Inch
Finish:Plain, H.D.G, Black oxide, Chrome, Teflon,dacromet,Anodized,With nylok
Certificates: ISO9001:2015, ISO14001:2015,IATF16949, ROHS
Custom Made:OEM is available,according to customer requirments
Head type&Drive Type
Head Type:Flat, Oval, Binding, Pan, Round, Truss, Button, PF,Cheese,Fillister, Pan Washer, Cylinder,Hexagon, Indented Hexagon,Washer
Drive Type:Phillips, Slotted, Phiilips/Slotted, 6 Lobe, Pin 6 Lobe, Pozidrive, Square, Triangle,Y type. Tri-wing, S-type, H type, Hexagon, 5 Point,8 point, Spline, Spanner, Clutch, Hex pn,torx pin
Machine Screw, Tapping screws,threading cutting screw,threading forming screw
Application
Socket head cap screws are a special type of fastener. Socket head cap screws are typically used in machine parts, die fixturing, and clamping. Socket head cap screws are ideal for applications in which there is not enough space to maneuver wrenches or sockets. they have a round cap with a hex head and are tightened with a socket wrench drive, choose the right cap head for your specific application.
Also, our custom fastener, bolts, and screws are widely used in the below industries
Electronics
Petrochemicals
Consumer products
Transportation
Agriculture
Heavy machinery
Construction
Automotive
Medical
Military
Aerospace
Oil and gas
Types of Socket Head cap Screws
Hexagon socket head cap screws
Low Profile Socket Head
Flat Head
Button Head
Socket captive screw
Socket set screws
Torx socket
Socket Shoulder screws
Benefits of Long Cap and Chrome cap screws
Chrome cap screws have a great appearance, those with a black oxide or armor coat finish resist corrosion
We supply all kinds of custom security screws from Micro M1 to Large long M40
| Thread | Pitch | ds(max) | ds(min) | dk | k | t | b |
| --- | --- | --- | --- | --- | --- | --- | --- |
| M3 | 0.5 | 2 | 1.86 | 5.5 | 2.92 | 1.3 | 4 |
| M4 | 0.7 | 2.8 | 2.66 | 7 | 3.91 | 2 | 6 |
| M5 | 0.8 | 3.5 | 3.32 | 8.5 | 4.91 | 2.5 | 8 |
| M6 | 1 | 4.5 | 4.32 | 10 | 5.85 | 3 | 10 |
| M8 | 1.25 | 5.5 | 5.32 | 12 | 7.82 | 4 | 12 |
| M10 | 1.5 | 7 | 6.78 | 16 | 9.82 | 5 | 15 |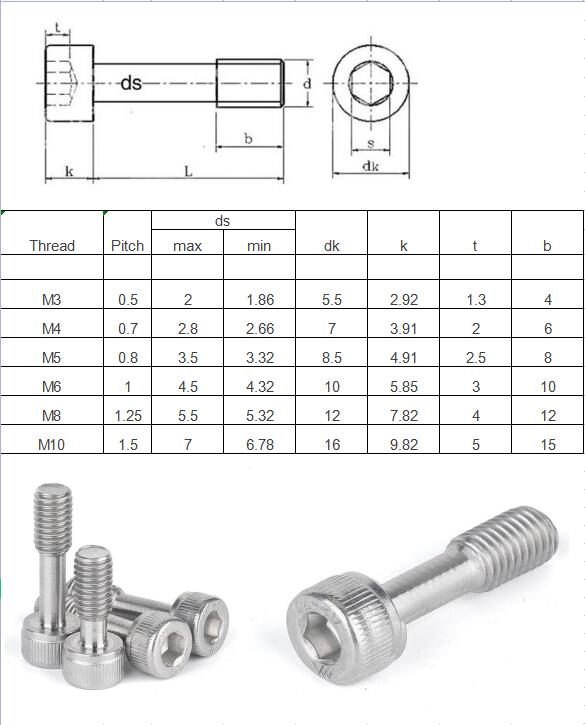 Why Choose Socket Cup Screws?
It's a cap screw with a cylindrical head and hexagonal drive hole. The screw head is clean and has no stamping or marking, which results in a smooth, finished look.
Button socket cap screws secure the mating parts or panels of an assembly or upper-level tool. Usually, an Allen wrench or hex key drives the screw into the components' holes, and tightening occurs by applying torque to the screw head.
Need Custom Screws for Your Industry?
As a 20-year industry experience manufacturer with a factory equipped with precision machines, we can provide, from consultation to production, a one-stop solution for you.
About Us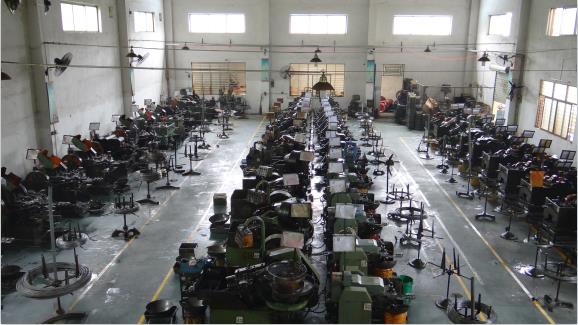 Shenzhen Heat Hardware Co., Ltd is a leading custom screw manufacturer in China founded in 2000 years. We are specializing in custom screws, security screws, Sems screws, Chicago Screws, Weld Screws, Long screws, Micro Screws, Thumb Screws, Set Screws, Custom bolts, carriage bolts, nuts, and other custom Fasteners. With more than 20years of industry experience. We have serviced over 20000customers including the aerospace industry, automotive industry, electronics, mechanical and electrical products, robots, the Medical industry, communications industry, Outdoor sports products, smart appliances, etc. we can provide one-stop fastener customized service for you no matter what kind of custom fastener you need.
Frequently Asked Questions
Related Custom Screws
Contact Us
Are you looking for screw manufacturers?
24hours online Service
Blogs