Heatfastener
Fender Washers
Manufacturers
We're a leading manufacturer of specialty fastening solutions for demanding industrial applications. Our area of expertise is custom fender washers, manufactured from high-quality, Plastic, Carton steel and stainless steel, etc materials. We can also manufacture them per your specific request.
Heatfastener Specialty Manufacturing has been working with original equipment manufacturers for over 100 years, providing excellent and timely customer service. Our team of highly trained professionals utilizes only the latest technology and processing methods to manufacture all of our flat washers. We carefully monitor each washer to be sure it is made to precision. You'll be satisfied with the end results.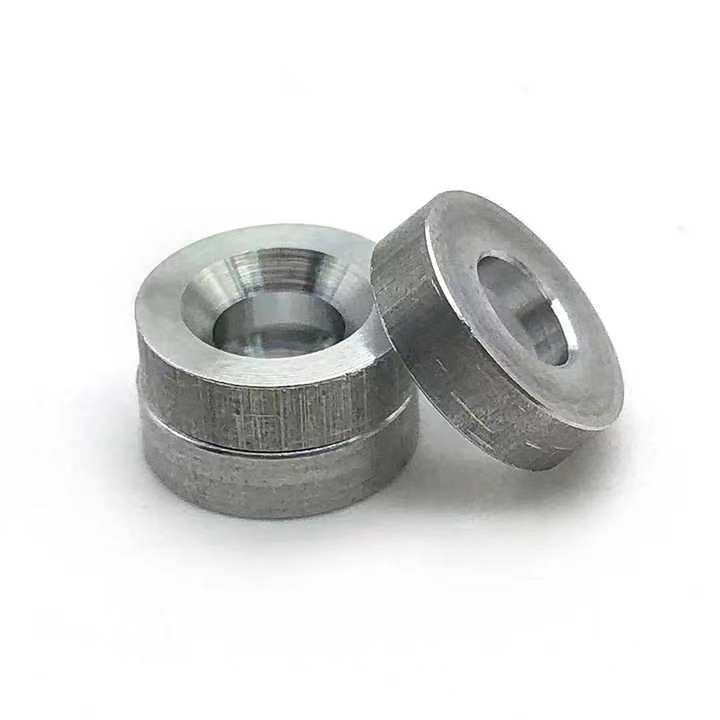 What Are Fender Washers?
washers are thin, disk-shaped plates with a hole that distributes the load of a screw, nut, or other threaded fasteners. They can be manufactured for a variety of purposes and product requirements in industrial applications., Washers are multipurpose fasteners used to protect parts from damage.
Fender washers are flat washers with an outer diameter that is three times as wide as the diameter of the inner hole. These flat, broad washers are usually thinner than other washers which allow for more surface area to spread the force of a heavy load. That means Fender washers simply have a larger outer diameter than most other types of washers. The outer diameter of a fender washer covers more surface area than that of other types.
Fender Washers are chosen when a large outer diameter is required for an increased bearing surface and surface load reduction. Designed for auto body repair, fender washers are commonly used in sheet metal work, plumbing, and electrical applications where a large washer diameter is needed. The automotive industry uses fender washers for many different uses. In fact, fender washers got their name after their use on automobile fenders.
Fender Washer Vs Flat Washer
The key difference between the fender washer and vs flat washer is that for the same inner diameter the fender washer has a larger outer diameter than the flat washer, and thus the fender washer has more bearing surface than the flat washer.
Types of Washers and their Uses
| Washer Types | Uses |
| --- | --- |
| Shoulder Washers | A shoulder washer is used to insulate fasteners, wires, or shafts from moisture and electricity. It looks like a typical flat washer on one end with an attached sleeve, or bushing, at the other end. The flange created by this design is inserted into a housing to provide a bearing surface for rotary applications |
| Countersunk Washers | Countersunk washers are washers that dip inward radially. In other words, they are raised on the sides. The sides of a countersunk washer are raised, but the center is relatively flat and not raised. Allows for a finished appearance |
| Fender | Used to distribute force/stress and can cover oversized holes |
| Sealing Washers | Sealing and cushioning washers create an airtight seal between fasteners and surfaces Made of relatively soft materials, Also known as rubber washers or sealing washers, they prevent leakage around plumbing fixtures, brake systems, and hydraulic applications. Forms a seal around a bolt or fastener and sometimes bonds to metallic washers |
| Slotted Washers | A slot is cut from the center of the C washer to the exterior to ensure an intuitive removal, insertion, and replacement process. Slotted washers and C lock washers are able to be inserted or removed without disassembling the bolts. |
| Spherical washers | Spherical Washer Sets, also known as Self-Aligning Washers or Equalizing Washers, are a great solution for fastening applications on an uneven surface. The washer set consists of a "top" half that is convex and a "bottom" half that is concave. |
| Split Lock washers | a lock washer is a special type of washer that's designed to create tension so that the bolt doesn't loosen or otherwise come out of its installed position. Lock washers aren't flat. They feature a semi-coiled design that gradually rises |
| Tooth Lock | round shape Has directional teeth or serrated edges, also referred to as star washers.Edges bite into fastener to prevent loosening |
| Wave Washer | The round waveShape compensates for spring force, increases load-bearing capacity, absorbs shock and vibrations, and resists loosening and fatigue |
Need Custom Bolts For Your Industry?
As a 20-year industry experience manufacturer with a factory equipped with precision machines, we can provide, from consultation to production, a one-stop solution for you.
Related Products
Contact Us
Are you looking for screw manufacturers?
24hours online Service
Related Articles