Heatfastener
Washers Supplier
Heatfastener is a custom washers supplier and manufacturer for all your washers fastener needs. Heat Fasteners, an industrial washers manufacturer, supplies a wide range of washers. We offer washers in inches and metrics. We can also make your washer per your size and plating specifications. Our washer line has many different materials as well. From plastic, stainless steel, aluminum, exotic metals, various grades of steel, and much more, we can supply your washer with the material you need. Heatfastener carries a full metric line of washers as well. It includes Din 125 A/B flat washers, Din 433 small series flat washers, Din 9021 fender washers, Din 127B split lock washers, Din 7980 split high-collar lock washers, Din 6797 external tooth lock washers, Din 6797 Internal tooth lock washers, Din 6798 external and internal tooth serrated lock washers.
Our Washer line includes the following:
Aluminum Washers
Belleville Washers
Brass Washers
Copper Washers
Cupped Washers
Fender Washers
Square Washers
Flange Washers
Shoulder Washers
Lock Washers
Special Washers
Wave Washers
Dock Washers
Ogee Washers
Flat Washers
Metal Washers
Nylon Washers
Plastic Washers
Spring Washers
Rubber Washers
Spring Washers
.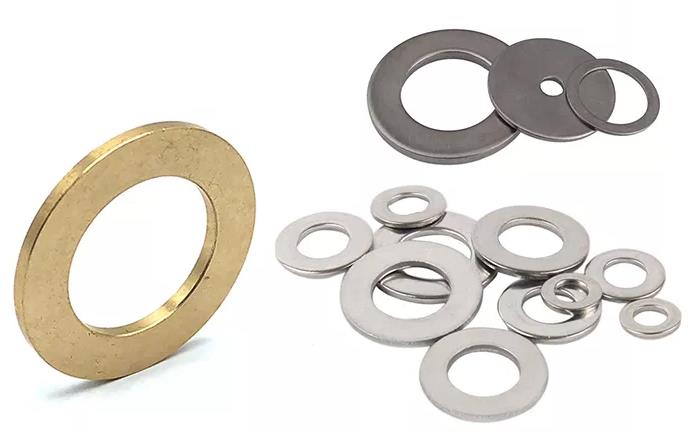 Types Of Washers
Flat: A flat Washer used to distribute the load, available in SAE, USS, and other patterns
Fender: An oversize flat washer is used to further distribute the load, especially on soft materials.
Finishing: A washer is used to obtain a finished look, usually used with oval head screws.
Split Lock: The most common style of washer used to prevent nuts and bolts from backing out
External Tooth Lock: A washer with external teeth. used to prevent nuts and bolts from backing out
Internal Tooth Lock: A washer with internal teeth. used to prevent nuts and bolts from backing out.
Square: A square Shaped washer
Dock: Dock washers have a larger outside diameter and are thicker than standard
Ogee: Thick, large diameter, cast iron washers with a curved or sculpted appearance. Typically used in dock and wood construction
Other Fasteners You May Interest in
Need Custom Nut for Your Industry?
As a 20-year industry experience manufacturer with a factory equipped with precision machines, we can provide, from consultation to production, a one-stop solution for you.
Contact Us
Are you looking for screw manufacturers?
24hours online Service