Heatfastener
Hollow Banjo Bolt Supplier
We're a leading manufacturer of specialty fastening solutions for demanding industrial applications. Our area of expertise is custom hollow banjo bolts manufactured from high-quality, Besides these materials. Carton steel and stainless steel, etc materials are also available. We can also manufacture them per your specific request.
Heatfastener Specialty Manufacturing has been working with original equipment manufacturers for over 100 years, providing excellent and timely customer service. Our team of highly trained professionals utilizes only the latest technology and processing methods to manufacture all of our flat washers. We carefully monitor each washer to be sure it is made to precision. You'll be satisfied with the end results.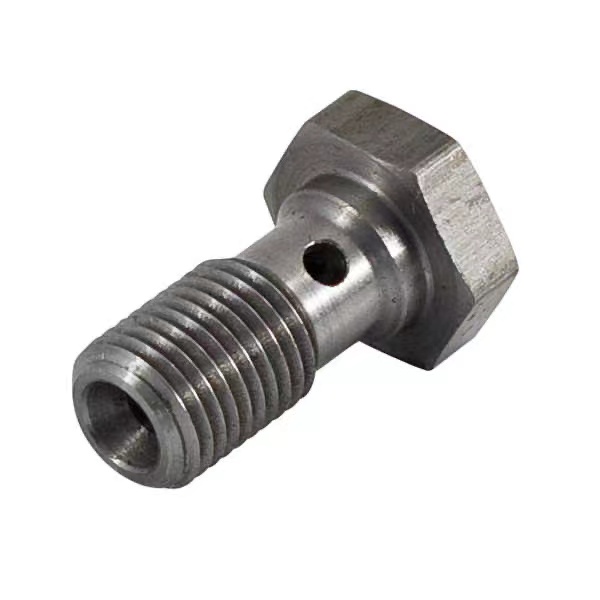 What are Hollow Banjo Bolts?
A banjo bolt is one-half of a banjo fitting. Banjo fittings are regularly used to pass pressurized liquid, It's normally a hollow bolt with a hole on the side. That hole permits fluid transfer right into the other part of the fitting, which is likewise hollow. The banjo bolt goes through the facility of the suitable, which additionally has a hole in it. The banjo installation has flat surfaces which are generally secured with a washer, commonly crush washers. These washers allow fluid to pass around the bolt, so the holes in the bolts do not need to line up, so the installation of flexible lines becomes easier.
Application
Banjo Bots are commonly found in automobiles' fuel, motor oil, power steering, and hydraulic systems, notably the clutch and brake systems. In such systems, the banjo bolt attaches the brake lines to the cylinder to regulate the pressure in response to the activation of the brake pedal. General applications include:
Hydraulic power systems
Power steering fluid
Variable valve timing systems
Brake caliper connectors
Turbocharger oil feeds
Fuel filter connectors
Carburetor connector
Hydraulic clutch systems
Fuel dosing for SCR systems
How To Install Hollow Banjo Bolts ?
A typical connection is made by inserting the hollow bolt into the pre-drilled holes of the fixture and hollow section. As the bolt head is tightened, the cone is pulled up the bolt thread, causing the sleeve to expand until the cone locks the sleeve against the hollow section's inner wall.


Frequently Asked Questions
Need Custom Bolts For Your Industry?
As a 20-year industry experience manufacturer with a factory equipped with precision machines, we can provide, from consultation to production, a one-stop solution for you.
Related Products
Contact Us
Are you looking for screw manufacturers?
24hours online Service
Related Articles