Heatfastener
Brass Fasteners Supplier
Heatfastener offers custom brass fasteners, including brass bolts, screws, and nuts. Brass is a common alloy of copper. It is roughly two-thirds copper, one-third zinc. It is non-magnetic that offers good strength and high electrical conductivity. It does offer good corrosion resistance but does not fare well in saltwater. Brass is commonly used in electrical, home building, and marine applications. We do offer a few different grades of brass.
Brass alloy 270: It contains 65% copper, and 35% zinc. It has a tensile strength of 70,000 psi and a yield of 45,000 psi
Brass alloy 360: It contains 61.5% copper, 3% lead, 35.5% zinc. It has a tensile strength of 50,000 psi and a yield of 30,000 psi.
Commercial brass: It contains 55-65% copper, 35-42% zinc, and 0.05-3.5% lead. It has the same tensile and yield as brass alloy 360.
Captive Screws
Machine Screws
Self-tapping screws
Weld screws
Shoulder screws
Chicago screws
Thumb Screws
Security screws
Small screws
Socket Cap screws
Carriage Bolts
Flange Bolts
Hex Bolts
T Bolts
U Bolts
Expansion Bolts
Eye Bolts
Hook Bolts
Sealing Bolts
Elevator Bolts
Hex Nuts
Flange Nuts
Lock Nuts
T Nuts
Rivets
Washers
Pins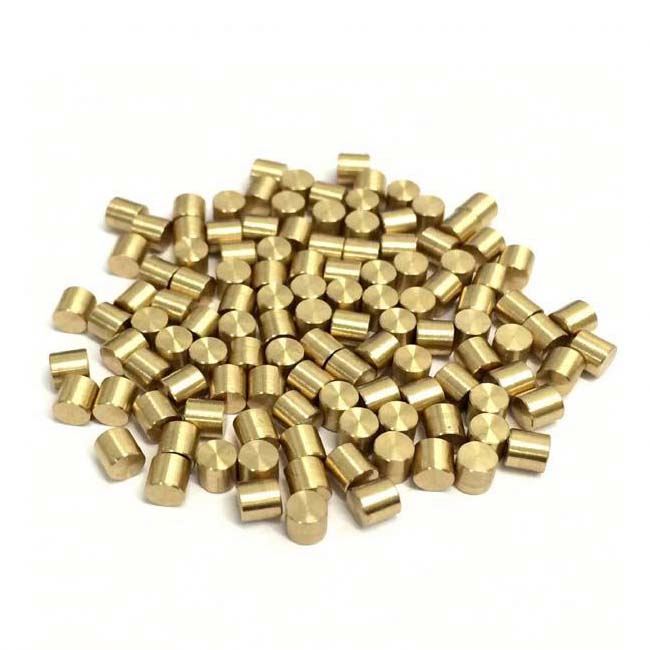 Brass screws are a very helpful screw type that can be made use of throughout differing applications. The brass makeup of the screw uses a variety of helpful attributes.
Even the moisture in the timber itself suffices to corrosion of an ordinary steel screw. Consequently, steel wood screws are usually covered with a rust-resistant finish. Usually, there are a number of options in plated timber screws: brass or zinc, with zinc being the most typical.
The anti-corrosive and water-resistant nature of these screws indicates they are suitable for exterior usage.
Typically, brass screws can be more visually pleasing as the brass supplies a softer tan coloring that functions well with wood. Usually smaller brass screws are made use of when developing furniture or installing doors etc. Brass is a softer metal and so should be used with even more care. It is additionally, as always, beneficial to use a screwdriver that fits the head of the screw precisely.
WHY USE BRASS SCREWS FOR THE EXTERIOR?
Frequently steel screws with a brass plating are made use of, yet brass screw jobs just as well. The major advantages of these screws will be located when set up in locations that can not be easily maintained, as well as ought to be used as opposed to even more common iron screws which can corrosion.
BRASS SCREWS FOR MARINE USAGE?
For decades brass screws and brass fasteners, and bolts have actually been used on aquatic devices, simply as these are the very best screws for the job. The water immune and also anti-corrosive high qualities of these screws are excellent for usage around the sea and undersea (or anywhere where it is typically a bit damp!). Routine steel and iron screws can wear away from prolonged direct exposure to the wind, sun as well as rain, so pure brass screws or brass plated iron screws are the very best for the task.
Need Custom Fasteners for Your Industry?
As a 20-year industry experience manufacturer with a factory equipped with precision machines, we can provide, from consultation to production, a one-stop solution for you.
Contact Us
Are you looking for screw manufacturers?
24hours online Service
Frequently Asked Questions
Blogs