Domed Head Plow Bolts and Nuts
We're a leading manufacturer of specialty fastening solutions for demanding industrial applications. Our area of expertise is custom plow bolts and nuts manufactured from high-quality Aluminum, stainless steel, carbon steel, etc materials.
We carry them in grade 5, grade 8, and F-911 steel (20% stronger than grade 8). They come off the shelf zinc or plain. We can also plate them per the specifications you need and can make your plow bolt if you are looking for a size that is not common.
Heatfastener is a professional custom fasteners manufacturer and supplier, not only screws but also bolts and other fasteners. Material can be stainless steel, carbon steel, titanium, or aluminum. etc. Metric and Inches are available. Non-standard sizes, materials, and finishes are available to order as specials
What are Plow Bolts and What They are Used For?
Plow bolts are a particular style of the heavy-duty threaded bolt that is typically utilized in building and construction, snow plowing, and also various other heavy machinery. This design of bolt is recognizable because it is particularly created to not turn after it is tightened with a coordinating nut as well as since it commonly is flush to the surface area. The non-protruding head of a plow screw makes them optimal for blades in and also snowplows since it permits the product to pass over the bolt head without obstructing the moldboard.
Plow bolts include a countersunk square neck under the head of the screw, differentiating them from hex bolts, which prevents the screw from transforming when threaded with a nut of the same thread. The square locking base width is the same dimension as the screw size. Plow bolts are readily available in different head designs; No. 3 head, level head, domed/convex head, clipped head, or elliptical/tapered head. The screw might additionally have a finish to secure against rust.
With different from Carriage bolts which are mostly used in wood and may also be known as plow bolts. They have a domed top and a square under the head. The carriage bolt square pulls into the wood as the nut is tightened for a very secure fit. Available in a variety of diameters, plow bolts are a common choice for any job.
Sizes&Dimensions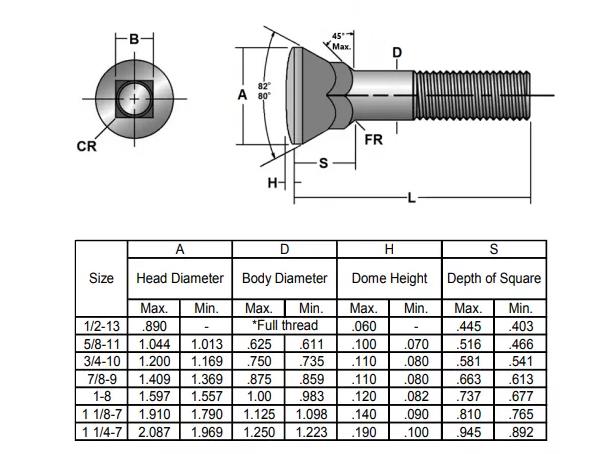 Size
A(Head Dia)max
A(Head Dia)min
D(Body Dia)max
D(Body Dia)min
H(Max)
H(min)
S (max)
S(min)
1/2-13
.890
–
Full thread
Full thread
.060
–
.445
.403
5/8-11
1.044
1.013
.625
.611
.100
.070
.516
.466
3/4-10
1.200
1.169
.750
.735
.110
.080
.581
.541
7/8-9
1.409
1.369
.875
.859
.110
.080
.663
.613
1-8
1.597
1.557
1.00
.983
.120
.082
.737
.677
1
1/8-7
1.910
1.790
1.125
1.098
.140
.090
.810
.765
1 1/4-7
1.969
1.250
1.223
.190
.100
.945
.892
Need Custom Bolts for Your Industry?
As a 20-year industry experience manufacturer with a factory equipped with precision machines, we can provide, from consultation to production, a one-stop solution for you.
Related Products
Contact Us
Are you looking for screw manufacturers?
24hours online Service
Related Articles