Heatfastener
Hexagon socket Screws Supplier
We're a leading manufacturer of specialty fastening solutions for demanding industrial applications. Our area of expertise is Hexagon Socket Screws Bolts manufactured from high-quality, materials available in Titanium, Aluminum, Brass, and Copper, Besides these materials. Carton steel and stainless steel 304, stainless steel 316, etc materials are also available. We can also manufacture them per your specific request.
Heatfastener Specialty Manufacturing has been working with original equipment manufacturers for over 100 years, providing excellent and timely customer service. Our team of highly trained professionals utilizes only the latest technology and processing methods to manufacture all of our fasteners. We carefully monitor each washer to be sure it is made to precision. You'll be satisfied with the end results. Our parts are widely used in aerospace, automotive, electronics, mechanical and electrical products, robot, medical industry, communications industry, outdoor sports products, smart appliances, etc
Features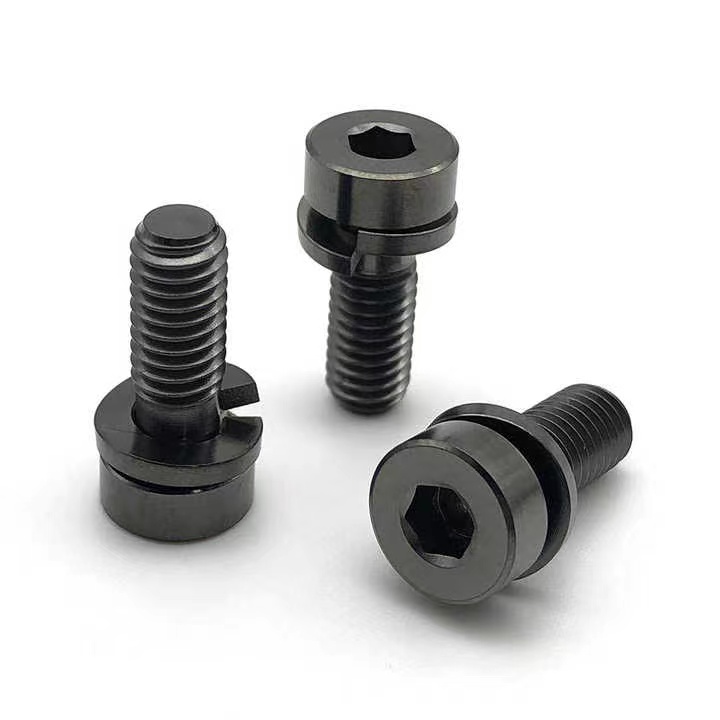 Hexagon Socket Head Cap screws, also referred to as hexagon socket bolts, cup head screws, and hexagon socket screws have different names, but they mean the same thing. The head is hexagonal and cylindrical.
Commonly used hexagon socket head screws also have 4.8,8.8,10.9, and 12.9.
Hexagon socket bolts are divided into ordinary and high strength according to their grade strength, Ordinary hexagon socket bolts are grade 4.8, and high strength hexagon socket bolts are grade 8.8 or higher, including grades 10.9 and 12.9 Hexagon socket screws are often used in machinery and they mainly have the advantages of easy fastening and disassembly, and not easy to slip corners.
Advantage Of Hex Cap Screws
Can withstand larger loads. It has six force-bearing surfaces, which are more resistant to screwing than flat head screws and cross recessed head screws with only two surfaces.
Which can be buried in use. That is to say, the whole screw head is sunk into the workpiece, which can keep the surface of the workpiece smooth and beautiful.
Easy to install. Compared with the outer hexagon screw, the hexagon socket cap screw is suitable for more assembly occasions, especially on narrow occasions, so it is very convenient to assemble and maintain, and it is also convenient to debug.
Not easy to disassemble. Remove cap screws have to use the special screwdrivers, common tools probably are not working on this, therefore, it is not easy for ordinary people to disassemble, also you can make it customized if you have special needs
Need Custom Screws For Your Industry?
As a 20-year industry experience manufacturer with a factory equipped with precision machines, we can provide, from consultation to production, a one-stop solution for you.
Related Products
Contact Us
Are you looking for screw manufacturers?
24hours online Service
Related Articles